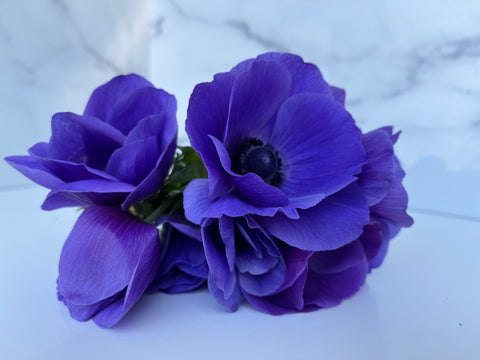 Sunny Meadows Flower Farm
Anemone Corms-Blue
We are happy to now offer a mix of our favorite anemones that we've been saving over the years. This variety is great for cut flowers with a nice bloom size. When you receive your corms, growing information will be provided since they take special care.
These can be grown in heated or unheated structures, but in our zone 6a or colder, they need to be grown under cover of some sort.  We've read that they can go outside for fall planting only in zones 8-10, but they are still best grown in some kind of structure.  If you are a home gardener, you can create a little caterpillar tunnel with bows or use a cold frame, it's still possible!  
Need more information about how to grow in hoops and greenhouses?  We are teaching a class with The Gardener's Workshop, sign up for more details here.  
Height: 10"-14"
$25 for a bag of 20 corms.  
**Please choose number of bags you want to order, not number of bulbs.**
Shipping starts in October.