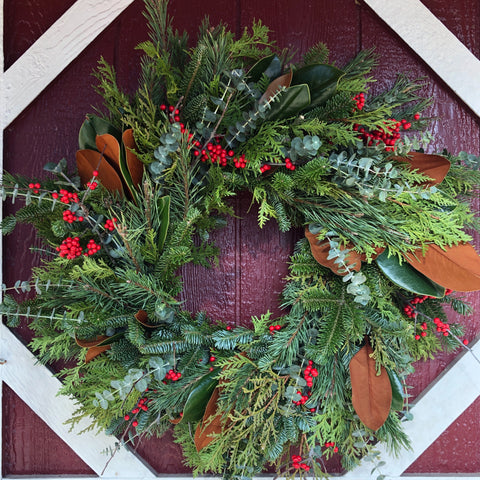 Sunny Meadows Flower Farm
Holiday Wreath: Merry & Bright
Our best selling wreath!  A wreath composed of mixed evergreens with red winterberry, eucalyptus, and magnolia. Photos are a size small and medium wreath.
Choose the delivery method you wish to use. *Note: this does not set the delivery method, but rather shows you the size options available for that method. Shipping is limited to small and medium sized wreaths due to our box size. At checkout, you will have to choose the shipping method again and that will calculate your shipping or delivery costs.
Wreaths are priced per size. Small measures 16" across, Medium 24" across (standard size: a great size for hanging on your door).  Larger sizes (approx 28" across) and extra large (approx. 32" across) are available for local delivery and pickup only. Contact us for custom orders.
Local Delivery recipients must live in  **Columbus, OH area only**.  $50 minimum order for delivery. 

You will receive an email notification when your order is ready to pick up at the farm.